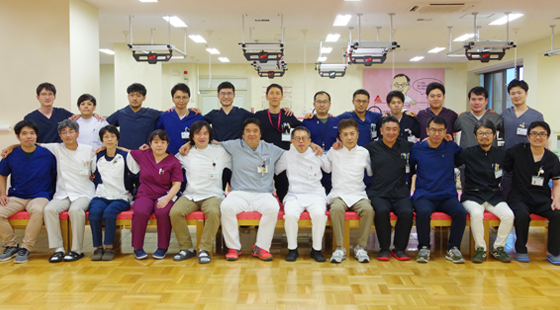 The medical treatment is divided into four groups, Leg, Spine, Sports, and Arm at our department. The specialist in instruction of each group acquires all the members orthopedics specialist, and there is most operation number of cases in the university hospital of Japan and can experience various diseases.
Because you can receive training from a specialist in clinical training instruction authorized by the country, you can participate in real clinical site including the operation.
In research field, we do researches on a wide variety of diseases, including osteoarthritis, trauma, rheumatoid arthritis, osteoporosis and tumors, and our patients range from children to the elderly. We have been achieved successful results with collaboration among industry, academia and government, and received grants from the Ministry of Education, Culture, Sports, Science and Technology, and the Ministry of Health, Labor and Welfare.
Why don't you join our training program, acquire surgical skills and brush them up together? We wait in Miyazaki.
Professor and chairman, Etsuo Chosa, MD, PhD.
Major Subspeciality
Arm groups
[Contents of medical treatment]
General arm medical treatment : diseases of shoulder to finger (trauma, tumor, RA, peripheral nerve, congenital deformity)
Sports group
[Contents of medical treatment]

Outpatient (sports trauma, injury)
Operation (each section, focus on knee arthroscopy )
Medical check up, medical support

Leg groups
[Contents of medical treatment]
All of leg medical treatments: diseases of pelvic, hip joint to toe (deformity, trauma, tumor, RA, congenital disease etc. )
[Contents of operation]
Replacement arthroplasty, arthroplasty, arthroscope, bone fracture
Spine group
[Contents of medical treatment]
All of spine medical treatments : from cervical vertebra to sacrum
[Contents of operation]

Deformity : hernia, constriction, spondylolisthesis, spondylolysis
Tumor : spine, spinal, extramedullary
Infectious : pyogenic spondylitis, spondylocace,
Transformation : scoliosis, kyphosis
Trauma : bone fracture, dislocation
Other : false joint ( After compression fracture come from osteoporosis, late paralytic), destructive-spondyloarthropathy (dialysable-spondyloarthropathy), rheumatic spinal disease
Main Clinical Researches
We conduct researches focusing on the following themes for the purpose of development of new treatments for pathogenesis of each disease.
Image analysis & Biomechanics
By using three-dimensional motion analysis system; force plate; finite element method; and universal testing machine, we perform analysis on sports diseases and orthopedic diseases, and apply them to prevention, diagnosis and therapy evaluation of each disease.
Development of new treatments and diagnostic method

We have developed and obtained a patent for artificial hip joint, spinal implants and new surgical therapy.
We generate a model animal of rheumatoid arthritis, analyze the effect of using different polymers to explore the potential as novel therapeutic agents.
We conduct researches of pathogenesis, new diagnostic method and treatment for cartilage injury and muscle damage.

Gene analysis: Pathogenesis of Locomotive syndrome
We analyze gene function to produce abnormal bone cartilage model mice as well as examine epidemiology and prophylaxis of locomotive syndrome. We also analyze gene responsible for orthopedic diseases to elucidate pathogenesis of various diseases, and apply them to the prevention, diagnosis and treatment.
Bone and cartilage, muscle, tendons regeneration research
We perform bone and cartilage regeneration research using ES cells, and apply them to tissue regeneration medicine.
Construction of "Sports Medicalland Miyazaki, Locomo the World Miyazaki"
Extramural Activities
We actively accept doctors and students from overseas. We are in cooperation with universities and research institutions in Switzerland and the United States. We have accepted doctors, graduate students, students from Brazil, China, the Philippines, and France. Also, I have been accepting students from partner universities every year.
Administration
Chairman's office:
University of Miyazaki
5200 Kihara, Kiyotake
Miyazaki 889-1692, Japan
Phone:  +81-985-85-0986
Fax: +81-985-84-2931
Email: seikei@med.miyazaki-u.ac.jp