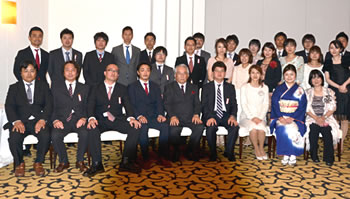 The Department of Oral and Maxillofacial Surgery of Faculty of Medicine, University of Miyazaki Hospital addresses all varieties of surgical treatments ranging for acquired, congenital, traumatic and developmental diseases of the jaws and face to simple extraction of teeth. Peculiarly, we are a leading research center and pre-eminent in the management of oral cancer and oral reconstruction by free flap for forearm, back broadest muscle and bone grafting. We have performed examination at 3 times per week and performed surgery at twice per week for patients with oral disease. And, we also performed surgery urgent the request of the emergency department. Other,  we perform high-level conference every week to share our knowledge and skills, perform frequent oral care in perioperative  department of all or perform oral care in critically ill patients visits to the ICU and emergency department.
Area of specialty
Oral Cancer
We are at the forefront of prevention and treatment for oral cancer. We strive to provide patients with the latest diagnosis using NBI and echo in addition to CT, PET-CT, MRI, and treatment for oral cancer by CCRT, BRT, super-selective arterial chemotherapy and oral reconstruction by free flap for forearm, back broadest muscle and scapula grafting.
Perioperative oral care
The number of bacteria in the mouth are 10 billion in 1g of plaque. If we can prevent growth of bacteria, it is possible to suppress the occurrence of postoperative complications, such as pneumonia, aspiration pneumonia and infectious endocarditis after surgery.
Area of active research
Oral Cancer
Oncogenes are activated as a result of mutation of the DNA. Risk factors that predispose a person to oral cancer have been identified in epidemiological  studies. It is important to note that around 75 percent of oral cancers are linked to modifiable behaviors such as tobacco use and excessive alcohol consumption. If oral cancer is diagnosed in its earliest stages, treatment is generally very effective.
Perioperative oral care
We have developed the oral care system for identifying a bacterium of the main post-operative complications in the oral flora, thereby specifically inhibiting the bacterial.
Publications
Development of a complete human anti-human transferrin receptor C antibody as a novel marker of oral dysplasia and oral cancer. Cancer Med. 2014 Aug;3(4):1085-99. doi: 10.1002/cam4.267
Prognosis factors in the treatment of bisphosphonate-related osteonecrosis of the jaw – Prognostic factors in the treatment of BRONJ. J Clin Exp Dent. 2014 Feb 1;6(1):e22-8. doi: 10.4317/jced.51213.
Loss of membrane-bound serine protease inhibitor HAI-1 induces oral squamous cell carcinoma cells' invasiveness. J Pathol. 2012 Oct;228(2):181-92. doi: 10.1002/path.3993.
Overexpression of the DNA sensor proteins, absent in melanoma 2 and interferon-inducible 16, contributes to tumorigenesis of oral squamous cell carcinoma with p53 inactivation. Cancer Sci. 2012 Apr;103(4):782-90. doi: 10.1111/j.1349-7006.2012.02211.x.
Evaluation of mandibular reconstruction with particulate cancellous bone marrow and titanium mesh after mandibular resection due to tumor surgery.Implant Dent. 2014 Apr;23(2):108-15. doi: 10.1097.
Administration
University of Miyazaki, 5200 Kihara, Kiyotake, Miyazaki 889-1692, Japan
Phone: +81-985-85-3786, FAX: +81-985-85-7190, Email: yoshihiro_yamashita@med.miyazaki-u.ac.jp
Please contact our secretary doctor-in-charge: Dr. Y Yamashita, DDS, PhD.