The Faculty of Medicine of University of Miyazaki was established in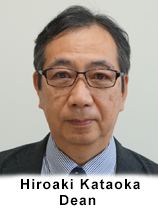 the year 1974 and during this span of period 3,000 students have successfully graduated from the School of Medicine. The School of Nursing was recently established in the year 2001 and so far 500 nurse students have graduated.
The slogan of University of Miyazaki is, "Look at the World, Start with the Community". Based on this slogan, the main objective of our Faculty of Medicine is to nurture young dedicated talents who can contribute to the local community society and also towards the international society. University of Miyazaki is the only medically oriented educational faculty in our local community and its main role is to provide essential medical staffs and maintain the health of the people in Miyazaki. To obtain this important goal, our Faculty of Medicine must be enriched with superior quality of education and sophisticated research works.
In accordance with the modernization of our society, we should respond by updating our educational curriculum of medicine and the higher research technology.
Through the School of Nursing, we must also aim to educate the student nurses so that they can support the health of the residents of our community with their acquired skills and knowledge of nursing.
For a community, maintaining good health is always an important issue. Our University Hospital is equipped with advanced medical facilities that offer the local society with high level of medical treatment. But at the same time we must also team up with regional each hospital as much as possible to provide safe and reliable treatment for the community of Miyazaki Prefecture.
It is important that the research work in the Faculty of Medicine of University of Miyazaki must be maintained at international level with high quality. At the same time it is also necessary to develop the medical service and research activity with the full satisfaction of the residents in the community of Miyazaki. Furthermore, we must also focus our view towards the international society. I therefore would like to establish international exchange programs through which we can keep on sending the new information of our activities to the Asian region and also to the other parts of the world.
With great pleasure, I would like to mention that we have carried out numerous international research projects and have successfully implemented these outcomes with publications in various peer reviewed international scientific journals. In accordance with the slogan "Look at the World, Start with the Community" I therefore hope and believe that we can achieve our goal with high quality of medical education and research projects in the Faculty of Medicine, University of Miyazaki.