University of Miyazaki Hospital
From Director
Message from the Hospital Director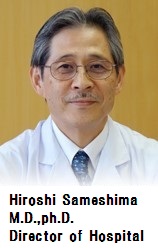 In April 2016, I was appointed director of the University of Miyazaki Hospital. Being thus the recipient of the trust of the citizens of Miyazaki Prefecture and the object of their expectations, I keenly feel the weight of responsibility that I now shoulder. I will give this task my all, and trust that I can count on your support.
The University of Miyazaki is currently in the process of implementing various reforms as a core university for regional revitalization. More than ever, university hospitals are being called upon to contribute in terms of regional revitalization, regional contribution towards medical treatment, training and nurturing of medical professionals who are active in the region, and be the provider of last resort in the prefecture of high-level and advanced medical treatment.
The philosophy of the university hospital is "Contributing to Society through Medical Care, Education and Research." These three areas are the three main pillars of a university hospital. It goes without saying that we have an obligation to produce excellent and capable people in each of these areas, and to build up the kind of results that we can share with the world. In addition, we are looking at how each of these three areas can be linked to regional contribution. We will move forward in our role as a university hospital to contribute to and help revitalize our region and, as the sole advanced treatment hospital within the prefecture, to promote and drive activities that support the health and sustain the lives of all citizens in the prefecture.
As the sole advanced treatment hospital in the prefecture, the university hospital has to date diligently accepted from regional medical clinics and hospitals as many as patients as possible requiring advanced treatment and management. The need for the kind of cooperation cultivated through such relationships is higher than ever before if we are to train and nurture young healthcare professionals; and training and nurturing healthcare professionals currently active in the region will become the core of regional revitalization. I therefore hope that everyone will extend these young healthcare professionals currently active in regional medical clinics and hospitals your benevolent understanding and affectionate guidance and encouragement.
From here on in we will strive to bring to bear the philosophy that we proclaim as a university hospital, doing our level best to meet every expectation of the citizens of this prefecture and be worthy of their trust. We of the University of Miyazaki Hospital are counting on your continued support.