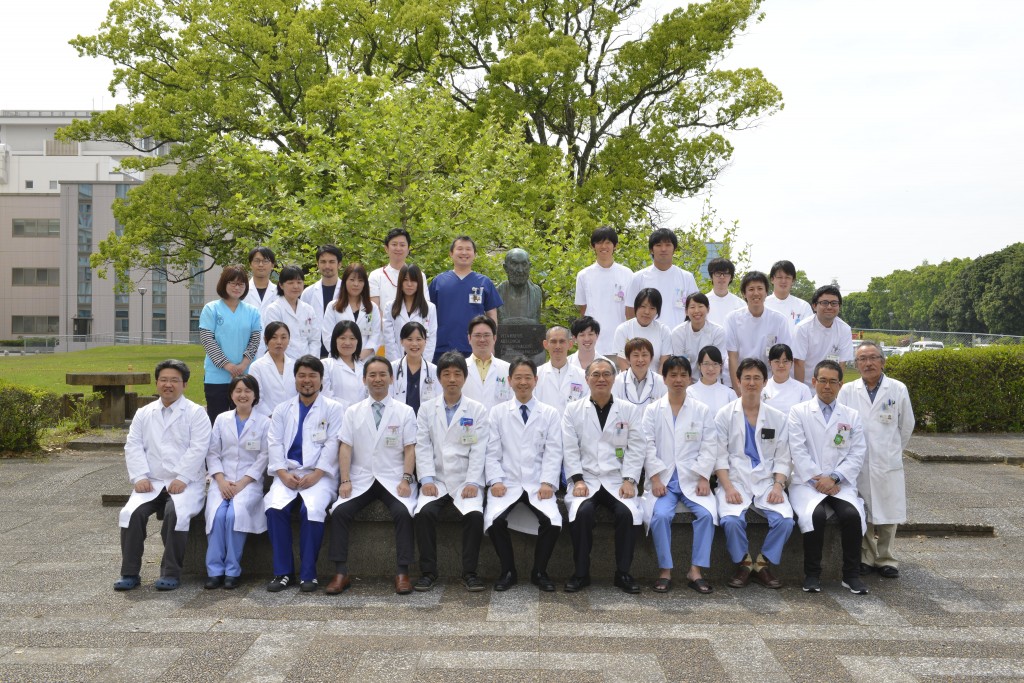 Our radiology section is one of the finest academic and practical departments in the specialty field in Japan and is divided into 4 subspecialities: diagnostic radiology, nuclear medicine, interventional radiology, and radiation oncology. We provide patient-oriented services using the latest imaging technology to diagnose and treat patients. We have well organized referral system connecting 3 prefectural hospitals, as well as private hospitals in Miyazaki Prefecture. Our educational programs include teaching activities in undergraduate medical and postgraduate school education, residency programs, and subspecialty fellowship training. For residents, we offer 5-year training courses in which sufficient number of clinical cases are provided with our excellent teaching staffs that enables them to fulfill the required condition to be a radiology specialist. Please join our outstanding staffs and enjoy our programs and medical service.
Major subspeciality
Diagnostic radiology (CT/MRI)

Neuroradiology: Morphologic and functional MRI studies using latest diffusion, perfusion, MR spectroscopy, quantitative susceptibility mapping (QSM), and other quantitative imaging technology
Thoracic radiology: Comprehensive diagnosis with CT and MRI for lung, mediastinum, cardiovascular system, breast and other regions. CT-guided procedures for diagnosis and treatment
Abdominal radiology: Comprehensive diagnosis with CT and MRI for various abdominal organs. Functional MR studies using latest fat-quantification and other quantitative imaging technology

Nuclear medicine

Clinical studies using PET/CT and SPECT/CT systems for nuclear oncology, nuclear cardiology and nuclear neurology.
Radioisotope therapy: Radioactive iodine treatment for thyroid cancer and hyperthyroidism、Bone pain palliation with strontium-89 in cancer patients with bone metastases, Radioimmunotherapy for lymphoma using In-111 ZEVALIN and Y-90 ZEVALIN.

Interventional radiology (IVR)

Vascular & non-vascular IVR: Emergency embolization for traumatic bleeding, transarterial chemoembolization for hepatic tumors, stenting for steno-occlusive disease, coil embolization for aneurysm, multi-therapy for venous thrombosis, and percutaneous vertebroplasty

Radiation oncology

Intensity modulated radiation therapy (IMRT) using linear accelerators to deliver very precise doses of radiation which are shaped to the size of the tumor
Stereotactic radiation therapy (SRT) using high precision delivery of high dose radiation while sparing normal adjacent tissue
Total body irradiation and emergency radiotherapy for some kinds of cancer
Main clinical researches
Quantitative MR imaging including T1&T2 mapping, QSM, and DSC&DCE and ASL perfusion for brain tumor, cerebrovascular disease and neurodegenerative disease
Advanced diffusion-tensor imaging including NODDI for various diseases
Fat quantification with 6-point Dixon technique for abdominal organs
CT-guided lung biopsy and radiofrequency ablation (RFA)
Correlation between various oncogenes expression and FDG uptake in pancreas cancer and biliary cancer.
Pioneering approach for PET imaging of epigenetic regulation via histone deacetylases (HDACs) in the brain using 18F-FAHA, tumor imaging with 18F-fluoroacetate, 11C-acetate and 11C-MeAIB
Publications
Azuma M, Hirai T, Yamada K, Yamashita S, Ando Y, Tateishi M, Iryo Y, Yoneda T, Kitajima M, Wang Y, Yamashita Y. Lateral asymmetry and spatial difference of iron deposition in the substantia nigra of patients with Parkinson disease measured with quantitative susceptibility mapping. AJNR Am J Neuroradiol. 2016 37: 782-788
Iryo Y, Hirai T, Nakamura M, Kawano T, Kaku Y, Ohmori Y, Kai Y, Azuma M, Nishimura S, Shigematsu Y, Kitajima M, Yamashita Y. Evaluation of intracranial arteriovenous malformations with four-dimensional arterial-spin labeling-based 3-T magnetic resonance angiography. J Comput Assist Tomogr. 2016;40:290-296.
Administration
Chairman's office:
5200 Kihara, Kiyotake, Miyazaki 889-1692, Japan
Phone: +81-985-85-2807
Fax: +81-985-85-7172
E-mail: toshinorh@med.miyazaki-u.ac.jp
For career opportunities:
Please contact Takashi Jinnouchi, MD.
E-mail: takashi_jinnouchi@med.miyazaki-u.ac.jp