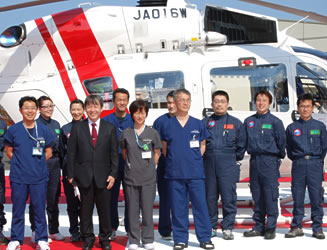 Emergency and Critical Care Center accepts about 2000~3000 seriously ill emergency patients, such as a multiple trauma, stroke, heart disease, burn, sepsis, and so on per year as a last hope of the emergency care of Miyazaki Prefecture. Moreover, we operate the Miyazaki doctor helicopter emergency care system (Miyazaki HEMS) in order to save as many life-threatened patients as possible. By Miyazaki HEMS, many patients, who were thought not to be saved by usual ground ambulance transport, were saved. Furthermore, we also established the doctor car system from this April and our pre-hospital emergency care system has become more powerful. We strive to cultivate staff development, research, and quality of medical examination in order to improve the emergency medical system. Our concept for education is to encourage the strongest general emergency physician.  Please join our team of outstanding physicians, and enjoy the programs and medical services.
Professor and chairman, Hidenobu Ochiai, MD, PhD.
Major Subspeciality
Pre-hospital Emergency Care
We established  Miyazaki HEMS and doctor car system in order to save more life-threatened patients.
Trauma Care
We save patients with severe multiple trauma by multimodality treatment.
Critical Care Medicine
We save severely ill patients with endogenous disease by multimodality treatment including intensive care.
Disaster Medicine
We also develop system for disaster medicine.
Main clinical Researches
Arranging the best system for pre-hospital emergency care.
Analysis of the pathophysiology for various critically diseases.
Development of the medical system for big disasters.
Treatment for traumatic shock.
Treatment of severe head trauma.
Clinically relevant basic studies by using animal models.
Extramural Activities
Our staffs have experience in visiting or working in the following institutions.
University of California, Irvine, California, U.S.A. (Department of Emergency Medicine)
Duke University Medical Center, Durham, North Carolina, U.S.A. (Division of Neurosurgery)
Administration
Mailing address:  5200 Kihara, Kiyotake, Miyazaki 889-1692, Japan
Phone +81-985-85-9547, Fax +81-985-85-9105
Secretary-in-charge: Kisako Nukumizu
Email: qq-saigai@med.miyazaki-u.ac.jp