Summary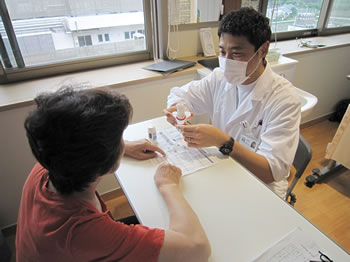 We have been conducting various practices such as dispensing, drug management, drug information, sterilized drug preparation, therapeutic drug monitoring and clinical pharmaceutical care in wards.  Our clinical mission is to provide the high-grade clinical pharmaceutical services as a university hospital and/or a special functioning hospital to patients.  The department is responsible for instruction of undergraduate and graduate students in the school of medicine and pharmaceutical science and for instruction of clinical training of a special pharmacist for oncology.  In the department pharmacy, we have several theme on clinical studies such as pharmacokinetics, pharmacogenetics and effective and toxicity of drugs.
Main clinical research projects
Effect of hepatocyte growth factor on functional changes of transporters and metabolic enzymes
Study on physiologic and pathologic factors related to the expression of membrane transport proteins influencing drug response
Study aimed at clinical application of cancer chemotherapy by combination treatment of anticancer drugs with caffeine
Study on genetic polymorphism
Publications
Tokunaga J., Matsuo Y., Takamura N., Sugimoto R., OkazakiA., Nagai K., Aoki T., Ogata K.,  Setoguchi N., Yoshida H., Nagata M., Kishimoto S., Fukushima S.,
Ikeda O., Nishio T., Kawai K., Arimori K.:Hepatic arterial infusion therapy with cisplatin using protein binding inhibition : Pharmacokinetics and antineoplastic effects of cisplatin combined with L-cysteine in rats., J. of Kyushu Univ. of Health and Welfare. 15:89-95 (2014).
Osaki T, Ozaki M, Takamura N, Ogata K, Tokunaga J, Setoguchi N, Arimori K: Albumin-binding of diclofenac and the effect of a site II inhibitor in the aqueous humor of cataract patients with the instillation of diclofenac. Biopharm Drug Dispos, 35(4):218-27(2014).
Setoguchi N, Takamura N, Fujita K, Ogata K, Tokunaga J, Nishio T, Chosa E,
Arimori K, Kawai K, Yamamoto R.: A diclofenac suppository-nabumetone combination therapy for arthritic pain relief and a monitoring method for the diclofenac binding capacity of HSA site II in rheumatoid arthritis. Biopharm Drug Dispos. 34(2): 125-136 (2013).
Kawano Y, Nagata M, Kohno T, Ichimiya A, Iwakiri T, Okumura M and Arimori K.: Caffeine increases the antitumor effect of cisplatin in human hepatocellular carcinoma cells.  Biol. Pharm. Bull. 35(3): 400-407 (2012).
Yamaguchi M, Sameshima H, Ikenoue T, Tsuboi M, Hidaka M, Arimori K.:Hyuganatsu orange (Citrus tamurana Hort. Ex Tanaka) contains a water soluble substance that suppresses bone loss in ovariectomized rats. Biosci Biotechnol Biochem. 76(2):364-367. (2012).