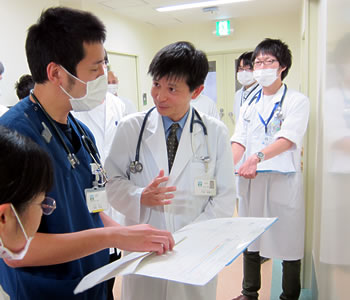 Department of Gastroenterology and Hematology started when Dr. Tsuda was named as the first professor in 1975. Since then, we've strengthened our commitment to provide medical care of the highest quality for gastroenterological disorders, hepatic disorders, hematological disorders, and a variety of malignant neoplasms. In addition, we are currently involved in many clinical trials and the development of new therapies including newly available targeted therapeutics.
Our educational programs include teaching activities in undergraduate medical education, graduate school, residency programs, and subspecialty fellowship training. Our residency program aims to train residents as general physicians well-prepared for any career path within internal medicine. The goal of our subspecialty training program is to produce high-caliber individuals in each field we cover.
Patient Care
We have the following research groups.
Gastroenterology
Hepatology
Hematology / Oncology
Target Diseases
Digestive system cancer
Gastrointestinal cancers are treated with non-surgical treatment such as endocopic therapy and chemotherapy.
Inflammatory bowel disease (IBD)
We provide patients current treatments for IBD, including medications, lifestyle modifications and surgery if necessary.
Viral hepatitis
We offer state-of-the-art antiviral therapy for hepatitis B and C. Endoscopic treatment are performed for variceal bleeding caused by cirrhosis.
Liver cancer
Non-surgical therapy such as radiofrequency ablation provides minimally invasive treatments for patients extend life and improve quality of life.
Malignant hematological disorders
For malignant diseases, such as leukemia, lymphoma, myeloma, and myelodysplastic syndrome (MDS), we provide the best treatment based on current knowledge about effective treatments.
Non-malignant hematologic disorders
Treatment of benign blood disorders such as anemia and hemorrhagic diseases varies with the cause.
Research area
Clinical research
Population-based cohort study on malignant disorders
Nationwide survey to characterize Japanese patients with myelofibrosis
Epidemiology of Human T-cell lymphotrophic virus (HTLV)-1 related diseases
Nutritional management for patients with liver cirrhosis
Construction of follow up system for HCV positive residents in local municipality
Evaluation of liver fibrosis using transient elastography
Understanding natural course of inflammatory bowel disease
Basic research
Molecular and cellular pathogenesis of Myeloproliferative neoplasms (MPN)
Developing novel targeted therapy for MPN
Molecular mechanisms of Adult T-cell leukemia-lymphoma leukemogenesis
Development of novel therapeutic method for inflammatory bowel diseases using mesenchymal stem cells
Administration
Director's office:
University of Miyazaki
5200 Kiyotakecho Kihara, Miyazaki 889-1692, Japan
Phone: +81-985-85-9121
Fax: +81-985-85-5194
For career opportunities, please contact:
Dr. S Yamamoto, MD.
E-mail: syoyama@med.miyazaki-u.ac.jp