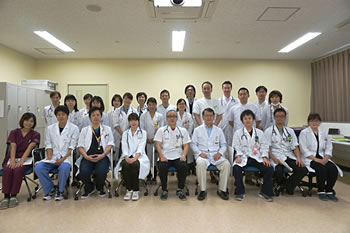 Our mission is dedicated to improving the health of infants, children, and adolescents through world class patient care, teaching, and research. Specialists in our department offer medical care for patients who require special management in a variety of areas, including immunology, infectious diseases, hematology, oncology, nephrology, endocrinology, neurology, and cardiology. Groundbreaking research with novel insight derived from vigilant management and profound care for each patient is ongoing.
Advanced Clinical Care & Research
Immunology and Infectious Diseases

Diagnosis and treatment of congenital immune deficiency disease
– Notably, more than 300 patients with Chronic Granulomatous Diseases in Japan have been registered and analyzed using molecular techniques
Research on innate immunity, especially on intractable infections and inflammation involving neutrophil diseases, abnormal apoptosis, and cytokine imbalance

Hematology and Oncology

Molecular-biological diagnosis of pediatric cancer and detection of minimal residual disease
Peripheral blood stem cell transplantation for refractory pediatric cancer
Identification of causative genes in familial leukemia
Elucidation of molecular mechanism of metastasis in malignant childhood solid tumors
Functional analysis of Mfsd2 gene using knock out mice
Genetic analysis of mechanism of retinoic acid resistance in acute promyelocytic leukemia

Nephrology

Histological diagnosis by kidney biopsy and treatment, including blood purification
Genetic analysis of congenital and hereditary nephrotic syndrome
Elucidation of molecular mechanisms of podocyte injury

Endocrinology & Metabolism

Genetic analysis of endocrinological & metabolic disorders
– Campomelic dysplasia, Glycogen storage disease type ix a, Ornithine transcarbamylase deficiency, Maple syrup urine disease)
Enzyme replacement therapy for lysosome diseases
Continuous subcutaneous insulin infusion (CSII) in young children with type1 diabetes
Research on regulation of energy balance

Neurology

Home mechanical ventilation therapy for patients with severe disability and neuromuscular disease
Analysis on hereditary psychomotor retardation or neuromuscular disorders

Cardiology

Catheter interventional therapy for congenital heart disease
Clinical application of cardiovascular magnetic resonance scan in congenital heart disease
Clinical research in echocardiography of fetuses
Familial arrhythmia in childhood
For Students
We offer clinical and research opportunities for medical students who are interested in pediatric medicine. Although all conferences and lectures are held in Japanese, our staff members will translate them to English to the best of our abilities. The detailed program is subject to change, depending on the demands and requirements of the student.