Summary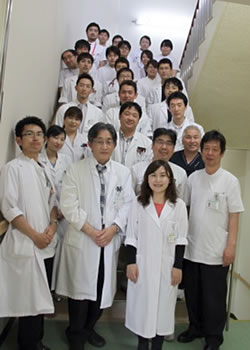 With state-of-the-art diagnostics and therapeutic strategies, our department is a one-stop destination for comprehensive ear, nose, throat and head and neck cares. Among them our department is one of the leading otology centers in Japan in collaboration with audiology and hearing implant center recently established as one of the central clinical facilities in Miyazaki University Hospital, supporting throughout departments and ENT clinics all over southern part of Kyushu Island.
Major Subspecialties
Otology
More than 250 tympanomastoid and stapes surgeries are performed every year for chronic ear diseases, otosclrerosis and congenital external/middle ear anomalies. We have established various surgical methods, such as anterior tympanotomy for functional cholesteatoma surgery and less invasive surgery for so called surfer's ears. Our program also involves middle ear implants (Rion device and Vibrant Sound Bridge), bone anchored hearing aid (baha), cochlear implants and those with electric acoustic stimulation.
Audiology and Hearing Implants
Systematic auditory rehabilitation using hearing aids and hearing implants are provided for children with hearing loss, ranging from infancy to school age, as well as elderly patients with presbycusis.
Rhinology
Inflammatory nasal and sinus diseases are treated with endoscopic sinus surgery.
Laryngology
Surgical treatments involve laryngeal tumors, voice disorders, alterations of laryngeal function and airway disorders.
Stomatopharyngology and Bronchoesophagology
Diseases of oral cavity, pharynx, trachea and esophagus are treated.
Head and Neck Surgery
Head and Neck cancers are treated with surgery, radiation, chemotherapy and with various reconstructive procedures.
On-going Clinical Researches
Classification and staging for middle ear cholesteatoma
Amidotrizoate therapy for sudden deafness
Clinical applications of newly developed hearing implants
Surgical management of middle ear anomaly
Clinical study of external canal exostoses (surfer's ear)
International Collaboration
Biennial Temporal bone dissection course at Swedish Neuroscience Institute, Seattle, Washington
Extramural activities (2013-2014)
The 23rd Annual Meeting of the Japan Otological Society at Seagia Convention Center, Miyazaki, November 23-26, 2013
The 1st Kyushu Meeting on rehabilitation of hearing at Kiten Convention Hall, Miyazaki, March 1, 2014
Publications (2013-2014)
Anatomical measurement of the facial recess and the round window membrane using cone-beam computed tomography. Nakashima T, Tono T, Matsuda K et al. Cholesteatoma and Ear Surgery. 363-365, 2013
Clinical observations in 20 cases of portinflammatory medial meatal fibrosis. Goto T, Tono T, Matsuda K. Cholesteatoma and Ear Surgery. 483-486, 2013
Regulation of the angiogenesis of acquired middle ear cholesteatomas by inhibitor of DNA binding transcription factor. Fukudome S, Wang C, Hamajima Y et al. JAMA Otolaryngol Head Neck Surg. 139(3):273-8, 2013
Glucose metabolism in primary auditory cortex of postlingually deaf patients: FDG-PET study. Okuda T, Nagamachi S, Ushisako Y, Tono T. ORL. 75(6)342-9, 2013
Pathogenic substitution of IVS15 + 5G > A in SLC26A4 in patients of Okinawa Islands with enlarged vestibular aqueduct syndrome or Pendred syndrome. Ganaha A, Tono T, Usami S, Suzuki M et al. BMC Medical Genetics. 14, 2013
Hearing preservation and clinical outcome of 32 consecutive electric acoustic stimulation (EAS) surgeries. Usami S, Moteki H, Tono T et al. Acta Oto-Laryngologica. Early Online, 1-11, 2014
Administration
Chairman's office:  University of Miyazaki, 5200 Kihara, Kiyotake, Miyazaki 889-1692, Japan
tel +81-985-85-2966, fax +81-985-85-7029, Email; otorhino@med.miyazaki-u.ac.jp