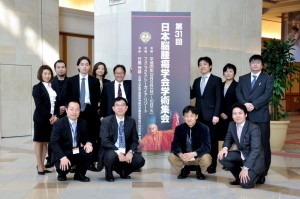 Brain is the most mysterious organ.  To well understand scientifically and to overcome the disease of the brain, we are fighting every day.  Neurosurgery is one of the finest academic and practical departments in our speciality in Japan.  Our staffs hold not only neurosurgical board of Japan but also boards of cancer therapy, neuroendovascular therapy, neuroendoscopy and spinal neurosurgery.  Most staffs have double or triple subspecialities to provide the high-quality medical service.  For residents, we offer 4-year training course in which sufficient number of clinical cases are provided with our excellent teaching staffs that enables them to fulfill the required condition to be neurosurgical specialist in Japan.  Moreover, we investigate the genomics and epigenomics of the brain tumors.  Please join us and enjoy our programs.
Major Neurosurgical subspecialty :
Neuro-oncology

Surgical treatment of the malignant glioma in combination of adjuvant therapy
Surgical treatment of skull base tumors and benign tumors

Cerebrovascular disease
Neurotraumatology
Spinal surgery

Spinal cord tumor
Cervical, thoracic and lumbar stenosis

Functional neurosurgery

Microvascular decompression
Deep brain stimulation (DBS)
Major clinical researches
Brain tumor registry of Miyazaki
Neuro-oncology and treatment
Identification of prognostic biomarker of brain tumors
Recent publication
Arterial spin-labeled perfusion imaging to predict mismatch in acute ischemic stroke.
Niibo T, Ohta H, Yonenaga K, Ikushima I, Miyata S, Takeshima H.
Stroke. 2013 Sep;44(9):2601-3
A case of primary diffuse leptomeningeal gliomatosis.
Yamasaki K, Yokogami K, Ohta H, Yamashita S, Uehara H, Sato Y, Takeshima H.
Brain Tumor Pathol. 2014 Jul;31(3):177-81.
Hypoxia-induced decreases in SOCS3 increase STAT3 activation and upregulate VEGF gene expression.
Yokogami K, Yamashita S, Takeshima H.
Brain Tumor Pathol. 2013 Jul;30(3):135-43.
Efficacy of temozolomide in a central nervous system relapse of neuroblastoma with O 6 -methylguanine methyltransferase (MGMT) promoter methylation.
Yamada A, Moritake H, Shimonodan H, Yokogami K, Takeshima H, Marutsuka K, Nunoi H.
J Pediatr Hematol Oncol. 2013 Jan;35(1):e38-41.
A huge intraventricular congenital anaplastic astrocytoma: case report with histopathological and genetic consideration.
Yamashita S, Ryu S, Miyata S, Uchinokura S, Yokogami K, Uehara H, Moriguchi S, Iwakiri T, Marutsuka K, Ikenoue M, Sawa D, Yamada N, Kodama Y, Takeshima H.
Brain Tumor Pathol. 2012 Apr;29(2):107-12.
Spontaneous regression and regrowth of central nervous system lymphomatoid granulomatosis: case report.
Takeishi G, Moroki K, Kawasoe T, Fukushima T, Yokogami K, Nabeshima K, Takeshima H.
Neurol Med Chir (Tokyo). 2011;51(11):801-4.
Oligodendroglial ganglioglioma.
Yamashita S, Yokogami K, Niibo T, Takeishi G, Ikeda T, Miyata S, Uehara H, Fukushima T, Nakazato Y, Takeshima H.
Brain Tumor Pathol. 2011 Oct;28(4):311-6.
Administration
Please contact Kiyotaka Yokogami, MD, PhD.
Email: akatoyik@med.miyazaki-u.ac.jp
5200 Kihara, Kiyotake, Miyazaki 889-1692, Japan
Phone: +81-985-85-3128
Fax:  +81-985-84-4571