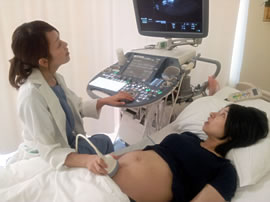 Our Obstetrics and Gynecology (Ob/Gyn) is one of the finest academic and practical departments in our speciality in Japan. For medical colleagues, our staffs hold  major leaderships not only in general Ob/Gyn, but also in our subspecialities including Maternal-Fetal medicine, Neonatal medicine, Gynecologic Oncology, Gynecologic Endocrinology, and Women's Healthcare. We also provide well organized referral system connecting 1 national and 3 prefectural hospitals, as well as private hospitals. For residents, we offer 5-year training courses in which sufficient number of clinical cases are provided with our talented teaching staffs that enables them to fulfill the required condition to be Ob/Gyn specialist. Please join our outstanding physicians and enjoy our programs and medical services.
Professor and chairman: Hiroshi Sameshima, MD, PhD.
Clinical chairman: Yasuyuki Kawagoe, MD, PhD.
Major Ob/Gyn subspeciality
Perinatal medicine (Maternal-fetal-neonatal medicine)*
Center for perinatal medicine (NICU, GCU, MFICU)
Perinatal pyramid has been established with our network referral system. University hospital is only one tertiary center where critically ill mother-fetus-infants are transferred and treated.
Gynecologic oncology*
Uterine, ovary, vulva, and peritoneal malignancies are treated with surgery, chemotherapy, radiation, and new devices. HBOC and other hereditary cancers are also managed.
Gynecologic endocrinology*
All female including juvenile and climacteric women's diagnosis and hormonal therapy are provided.
Reproductive endocrinology and Infertility
Infertility specialists provide high-quality infertility services.
Women's healthcare
Gynecologic surgery/ Laparoscopic surgery*
Collaborating board-certified specialists join and teach laparoscopic surgeries.
Asterisk(*) : Trainees will be eligible to take these board examinations after completion of the program.
Main clinical researches
Population-based-study on perinatal medicine and its related high risk pregnancies.
Fetal heart rate monitoring.
Medical and obstetrical complications during pregnancy.
Gynecologic oncology and treatment.
Clinically relevant basic studies by using animal models.
Extramural activities
Most of our staffs have experience working in one of the following institutions.
University of California, Irvine, California, USA. (Department of Ob/Gyn, or NICU)
Loma Linda University, California, USA. (Center for fetal biology)
University of Western Ontario, Canada. (Department of Ob/Gyn)
New York, Australia, and other countries.
Administration
Chairman's office
Phone: +81-985-85-0988
Fax: +81-985-85-6149
E-mail: hiroko_taniguchi@med.miyazaki-u.ac.jp
Doctor-in-charge: Dr. J Onishi, MD, PhD.
Email: junji_onishi@med.miyazaki-u.ac.jp