Summary
Our department consists of the Neurology, Respiratory, Endocrinology and Metabolism. Each staff provides the specialized clinical training and research education for the residents and medical students. Please join our physicians and enjoy our medical programs and service.
Major Subspeciality: Division of Neurology
Founded in 1977 under Shukurou Araki, the first professor, who contributed to the probable cause of a familial amyloid polyneuropathy, in us Neurology opinion, has contributed as a center of Neurology in Miyazaki Prefecture. As the target neurological disorders in general from nerve infections such as meningitis, ranging from common diseases such as epilepsy and cerebral vascular disorders, degenerative diseases such as amyotrophic lateral sclerosis and Parkinson's disease, the immune neurological disease gets off. In addition, we have carried out the probable cause of a disease, the k care up to the intractable measures from treatment progressive.
Our department is capable of providing rapid response even for emergency neurological diseases such as Guillain-Barre syndrome meningitis, and encephalitis. On the other hand, we also conduct genetic analysis of hereditary neurological disorders and analysis of disease using neurophysiological examination.
Major Subspeciality: Division of Respiratory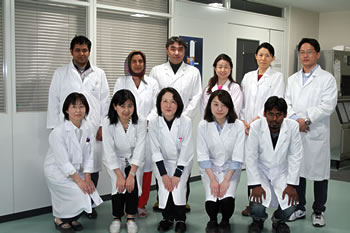 Our department of pulmonary medicine is one of the leading regional institution in clinical practice and advanced research.  The mission of our department is to train leaders in practical and academic medicine, who play an active role in regional and global.  We offer a fellowship curriculum which includes regularly scheduled conference and special seminars provided by master clinicians.  During the fellowship training, they learn the clinical care of acutely and chronically ill patients, and the advanced skills of interventional pulmonology.  The fellows also assume teaching roles while rounds, performing procedures, instructing residents and students.
Major subspeciality of pulmonary medicine
Infectious disease
Thoracic oncology
Interstitial lung disease
Airway disease
Researches
Evaluation of clinical effect of ghrelin on QOL of patients with lung cancer.
Clinical trial with ghrelin for patients with chronic respiratory failure.
A search for lung cancer diagnosis markers using the global analysis of urinary peptides by mass spectrometry.
Major Subspeciality: Division of Endocrinology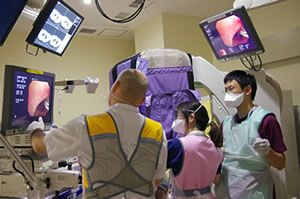 Two experienced endocrinologists assisted by endocrine subspecialty fellows provide best caring treatment for patients with endocrine disorders, especially in pituitary disorders. Conferences and journal club are held once a week to provide cutting-edge data and information and share expertise of faculty members in a congenial environment.
Main clinical researches
Clinical survey on pituitary disorders (e.g. QOL in patients with acromegaly) and gene analysis of genetic disorders (e.g. MEN type 1 and 2A) are being done.
Publications:
Yamaguchi H, et al: A 5′ splice site mutation in the cytochrome P450c17 gene in 17 alpha-hydroxylase deficiency. J Clin Endocrinol Metab 82:1934-1938 (1997).
Koshida R, et al: A Novel Nonsense Mutation in DMP1 Gene in a Japanese Family with Autosomal Recessive Hypophosphatemic Rickets, J Bone and Mineral Metab,28:585-590 (2010).
Contact:
Hideki Yamaguchi, M.D., Ph.D.
Assistant Professor
E-mail: yamahide@med.miyazaki-u.ac.jp