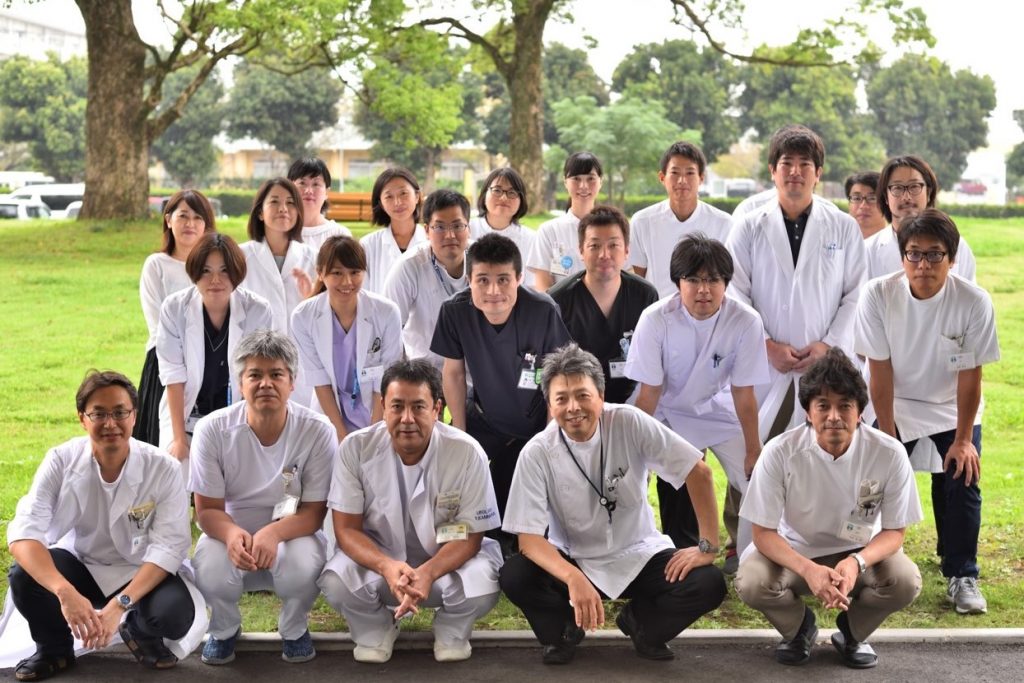 Thank you for visiting the official site of the Department of Urology at University of Miyazaki. The Department of Urology has a long tradition of serving the needs of Miyazaki Prefecture by delivering the highest quality healthcare. As Miyazaki's central urological service, we treat a wide range of urologic problems, from the routine to the rare. Please take some time to read through our page to familiarize yourself with the specialized areas of treatment we offer.
Toshiyuki Kamoto, M.D., Ph.D.
Chairman
Department of Urology
Faculty of Medicine
University of Miyazaki
Major subspecialties
Urological oncology
In the area of urological oncology we treat a wide range of diseases such as malignant tumor of the urinary tract (kidney, ureter, urinary bladder, urethra), male genitalia (prostate, seminal vesicle, testis, penis) and retroperitoneal organs (adrenal gland, retroperitoneal tumor etc.).
The surgical treatment available here includes laparoscopic surgery (total resection of kidney, prostate and urinary bladder, partial resection of kidney and urinary bladder), open surgery (resection for renal cell carcinoma with IVC extension, urinary diversion etc.), and transurethral endoscopic surgery (transurethral resection of tumor in urinary tract).
Non-surgical treatment options include chemotherapy, molecular targeted therapy, androgen deprivation therapy, and external beam radiotherapy.      Other options are multimodal treatment for advanced cancer, palliative care, cancer prevention, and active surveillance for prostate cancer and small renal masses.
Pediatric urology
In pediatric urology, we mainly focus on cryptorchidism, vesicoureteral reflux (VUR), hypospadias, congenital hydronephrosis due to ureteropelvic junction obstruction (UPJO) and ureterovesical junction obstruction (UVJO).
Surgical treatment includes orchidopexy, ureterocystostomy, urethroplasty and pyeloplasty.
Voiding dysfunction
In the area of voiding dysfunction we treat benign prostatic hyperplasia (BPH), urethral stricture, and neurogenic bladder.
Specific examinations performed in the department include pressure-flow study and video urodynamics.
Our surgical treatment includes holmium laser enucleation of the prostate (HoLEP), and transurethral surgery.
Other
In the area of female urology we provide tension-free vaginal mesh (TVM) for pelvic organ prolapse, and trans-obturator tape (TOT) surgery for stress incontinence.
We also offer hydraulic pressure therapy for the treatment of interstitial cystitis.
In addition, we started living related kidney transplant.
Major clinical research
1)    Cohort study of BPH patients in Miyazaki prefecture
2)    Prospective study on voiding function using "Flow-sky"
3)    Cohort study of renal cell carcinoma patients in Miyazaki prefecture
4)    Prospective study on the clinical relevance of partial nephrectomy
5)    Retrospective clinicopathological analysis of the expression of growth factor-related protein in urological malignancy by immunohistochemistly
As an integral part of the community healthcare system we apply the most advanced medical technologies to a broad range of diagnostic and therapeutic strategies to meet and exceed the expectations of the patients we serve. We welcome visitors who wish to learn more about the urological care we offer here at the University of Miyazaki's Department of Urology.