We lecture on, exercise and provide practical training of mental health, psychiatric nursing and home care nursing.
PSYCHIATRIC NURSING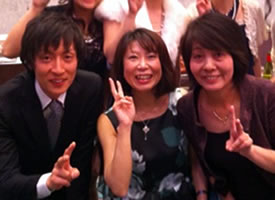 We focus on cognitive behavioral therapy (CBT) and strength-based nursing care. We launch a study group to research and practice CBT while learning CBT from medical and welfare professionals simultaneously.
HOME CARE NURSING
Home nursing care is a nursing service provided in patient's home. Regardless of illness or disability, it enables individuals to live in a home receiving recuperative care until the very end by providing support inter-occupationally. We research and give lectures on the support methodology of home nursing care.
Main Subjects
Home health care nursing
Home health care nursing training
Mental health nursing
Mental health nursing training
Epidemiology & health statistics
Nursing research
Research Projects
Physiological and Psychological Verification of the Effects of Cognitive Behavioral Therapy Group Program for Depression
Developing and evaluation of Cognitive Behavioral Therapy training programs for psychiatric home visit nurses.
Publications
An Attempt to Structuration and Practice of CBT Training for Nurses. Japanese Journal of Cognitive Therapy, Vol7, No1, Feb.2014
The Reality of Psychotropic Drug Use in Dementia Group Homes and the Present Situation of Uneasiness Concerning How the Staff Deals with these Drugs. Journal of Japanese Society for Dementia Care, Vol.12, No.4, 2014.
Study of the Influence that Involve in Cognitive Behavioral Therapy gives to "Nurses Professional Autonomy" of the Psychiatric Nurses. Journal of Japan Academy of Psychiatric and Mental health Nursing, Vol.23, No2, 2014 (in press)
Cognitive Behavioral Therapy for Nurses. 2014, Kongo Shuppan, Tokyo.