What's going on in the Kato's lab: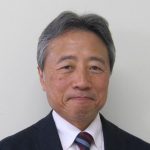 We are doing a wide range of research from basic research to clinical or population-based study, with the major key word "bioactive substances/peptides".
For more details, please visit our website at:
www.med.miyazaki-u.ac.jp/peptides/katou/en
Research projects
Functional analysis of receptors for bioactive substances/peptides in vitro
Physiological and pathophysiological roles of bioactive substances/peptides in vivo
Lab Techniques
Cell culture and molecular biology experiments in vitro
Cardiovascular pharmacological experiments in vivo
Clinical and epidemiological studies of bioactive substances/peptides
Publications – Original Papers
Kuwasako K, Kitamura K, Nagata S, Sekiguchi T, Danfeng J, Murakami M, Hattori Y, Kato J. β-arrestins negatively control human adrenomedullin type 1-receptor internalization. Biochem Biophys Res Commun 2017; 487: 438-443.
Jiang D, Kawagoe Y, Kuwasako K, Kitamura K, Kato J. Inhibitory effects of losartan and azelnidipine on augmentation of blood pressure variability induced by angiotensin II in rats. Eur J Pharmacol 2017; 806: 91-95.
Kato J, Kawagoe Y, Jiang D, Kuwasako K, Shimamoto S, Igarashi K, Tokashiki M, Kitamura K. Plasma levels of natriuretic peptides and year-by-year blood pressure variability: a population-based study. J Hum Hypertens 2017; 31: 525-529.
Publications – Review Paper
Kato J, Kitamura K. Bench-to-bedside pharmacology of adrenomedullin. Eur J Pharmacol 2015; 764: 140-148.