English
Orthopaedic Surgery
Information for Exchange Students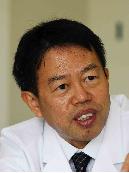 Name of the department: Department of Orthopaedic Surgery & Rehabilitation, Faculty of Medicine
Head of the department: Professor Etsuo CHOSA, MD, PhD
Tutor(s): Professor Etsuo CHOSA, MD, PhD
Assistant Professor Hiroshi KUROKI, MD,PhD
Assistant Professor Kohji TOTORIBE, MD,PhD  (Rehabilitation)
Language(s): English/Japanese
Duration: one month or two weeks
Period of year: all year except from Dec. 25th to Jan. 6th and Aug.
Acceptable number of students (per period/per year): 2/period, 8/year
Clinical training:
・Details of the clinical training and training contents
 1) Understand basic anatomy, biomechanics and pathomechanics of the musculoskeletal system (locomotive organ)
2) Diagnoses and differential diagnosis of common orthopaedic disorders
 (1) Osteoarthritis (Spine, Upper & Lower extremity),
(2) Trauma (Fracture, Dislocation)
(3) Sports Medicine (Arthroscopy), (4) Rheumatoid Arthritis
(5) Bone & Soft Tissue Tumor, (6) Rehabilitation
3) Study: Conservative treatment (drug, injection, cast, brace, rehabilitation) and surgical treatment
Research Project:
・Name of the project: Musculoskeletal System (locomotive organ) Research
・Description of the project (including, relation to the main work of the laboratory, procedures and methods used in the project):
The student(s) who joins our department would work on the project proceeding at the term and learn techniques including anatomy, biomechanics and pathomechanics as follows.
1. Understanding the role and importance of locomotive organ using motion analysis such as 3D- kinematic analysis and Accelerometers.
2. X-ray, ultrasound, CT and MRI analyses
3. Handling and analysis of DNA by cloning, sequencing, PCR, Southern blotting, and protein expression and functional analysis of the genes.
4. Analysis by light microscopy and micro-CT.
・Aim of the project:
 Elucidate the pathomechanics, natural history, and treatment rationale of locomotive organ disorders.
Requirements (if special knowledge is needed): No special knowledge is needed, but students who are interested in the research field are highly recommended.
Further information from:
http://www.med.miyazaki-u.ac.jp/ortho/default.htm