English
Tumor and Cellular Biochemistry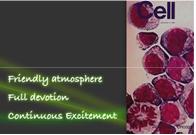 Name of the department: Division of Tumor and Cellular Biochemistry, Department of Medical Sciences, Faculty of Medicine, University of Miyazaki
 Name of the research project:Molecularmechanism of refractory leukemias, including Adult T-cell leukemia (ATL) in Japan.
 Head of the department: Professor Kazuhiro Morishita MD, PhD
Tutor(s): Assistant Professor: Shingo Nakahata
        Assistant Professor: Kazuko Kaneda
Language(s): English/Japanese
Duration of the project: 2 to 4 wks
Period of year: all year except from Dec. 25th to Jan. 6th
Acceptable number of students (per period/per year): 2
Description of the project (including, relation to the main work of the laboratory, procedures and methods used in the project):
In the development of malignancy it still remains unclear whether already committed hematopoietic progenitor cells are targets of oncogenic events, or whether this only occurs in true hematopoietic stem cells (HSCs). The source of these so-called Leukemic Stem Cells (LSCs) is critical when considering the success of current therapeutic regimes. Work within this program aims to understand the processes underlying the development of leukemia by combining research focused on regulation of normal hematopoiesis together with a greater understanding of aberrant regulation of hematopoiesis in LSCs derived from pediatric patients. Particularly, we isolated transcription factors for developing leukemia, such as EVI1, MEL1/PRDM16, ZEB1/TCF8 or others. Based on the function of these transcription factors in normal or leukemic hematopoiesis, we investigate the difference between HSC and LSC.
         Moreover, Adult T-cell Leukemia (ATL) was identified as an independent clinical entity in 1977 by its unique clinical features, and the clustering of patients in Kyushu island, southwestern Japan. Thereafter, its causative agent, HTLV-I, was identified, which lead to the detailed characterization of ATL, and virological, epidemiological studies of HTLV-I associated diseases. HTLV-I was the first retrovirus that has been shown to be associated with human disease before HIV. After infection to the HTLV-1, around 5% of HTLV-1 carriers were developed to ATL after 50 years. Therefore, it is suggested that HTLV-1 carriers have been developed ATL as a consequence of additional genetic abnormalities. We have used combining strategies from GeneChip analysis, proteomics and chromosomal analysis of SKY for identifying the causative genetic abnormalities of ATL.
   The student(s) who joins our laboratory would work on the project proceeding at the term and learn techniques including biochemistry and molecular biology as follows.
Aim of the project:
Since molecular biology is attractive and handling DNA, RNA and protein is so popular, technology for molecular biology is one of the most favorite disciplines for many students. More than that, we use cellular biology with cell culturing system or immuno staining by confocal laser scanning microscopy, and study transgenic and gene-targeted mouse. I hope that this project should become glimpse into these biochemical and molecular biology bases.
Requirements (if special knowledge is needed):
No special knowledge is needed, but students who are interested in the research field are highly recommended.
Further information from:
Web site: http://biochem.med.miyazaki-u.ac.jp/english/index.html