English
NeuroBiology
Information for Exchange Students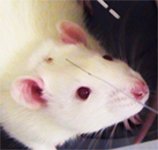 Name of the department: Division of Neurobiology, Faculty of Medicine, University of Miyazaki
Name of the research project: Research for the descending pain inhibitory system in the rat model with neuropathic pain.
Head of the department: Professor Toshikazu Nishimori, PhD
Tutor(s): Professor Toshikazu Nishimori, PhD
Associate Professor Tetsuya Ikeda, PhD
Language(s): English/Japanese
Duration of the project: One month
Period of year: all year except from Dec. 25th to Jan. 6th
Acceptable number of students (per period/per year): 1/period, 2/year
Description of the project (including, relation to the main work of the laboratory, procedures and methods used in the project): Neuropathic pain may be due to a pathophysiological alteration of the peripheral and/or central nervous system including spinal dorsal horn neurons. The hallmarks of this type pain include an enhanced response to noxious stimuli, thermal and mechanical hyperalgesia and a pain response to previously non-noxious stimuli (allodynia). The inhibition of neuropathic pain by the descending systems has been studied by focusing on the synaptic transmission between dorsal horn neurons and primary afferents. In this project, we investigate the effect of candidate drugs for descending inhibitory system on the spinal dorsal horn by using model rats of neuropathic pain (e.g. chronic constriction injury of the siatic nerve, diabetic neuropathy). The student(s) who joins our laboratory would work on the project proceeding at the term and learn techniques as follows.
1) Preparing a neuropathic pain models
2) Methods of behavioral pain test
3) Analysis of c-Fos expression in the spinal dorsal horn after noxious or non-noxious stimulation
Aim of the project: We hope that this project should become glimpse into research of pain and gain an understanding of the mechanism underlying neuropathic pain.
Requirements (if special knowledge is needed): No special knowledge is needed, but students who are interested in this research field are highly recommended.
Further information from:
Tetsuya Ikeda